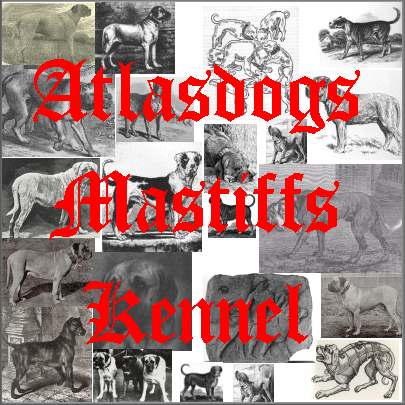 Our kennel is located at Huddinge in the region of Stockholm, Sweden. We strive to get healthy and sound life companions.

Our dogs are family dogs, they all live inside the house, sleep on the couches, beds and so on. Sometimes it happen that we want a pup from one of our bitches, which could lead to some extra pups left over. But we ONLY mate for our own counting and always keep at least one pup. We mate only after all the health tests have been made and we are sure that we will get reasonable healthy offspring.

If we've got any pup left over, we'll sell it to carefully selected host families with earlier experience of mastiffs or dogs of the type 'Moloss', and there isn't any suspicion about puppies production for commercial purposes.

You are always welcome to contact us, and we'll be happy to help you solve the answers to any questions you might have.
Mastiff mastiff Mastiffs mastiffs Mastiff mastiff Mastiffs mastiffs Mastiff mastiff Mastiffs mastiffs Mastiff mastiff Mastiffs mastiffs Mastiff mastiff Mastiffs mastiffs Mastiff mastiff Mastiffs mastiffs Mastiff mastiff Mastiffs mastiffs Mastiff mastiff Mastiffs mastiffs Mastiff mastiff Mastiffs mastiffs Mastiff mastiff Mastiffs mastiffs Mastiff mastiff Mastiffs mastiffs Mastiff mastiff Mastiffs mastiffs Mastiff mastiff Mastiffs mastiffs Mastiff mastiff Mastiffs mastiffs Mastiff mastiff Mastiffs mastiffs Mastiff mastiff Mastiffs mastiffs Mastiff mastiff Mastiffs mastiffs Mastiff mastiff Mastiffs mastiffs Mastiff mastiff Mastiffs mastiffs Mastiff mastiff Mastiffs mastiffs Mastiff mastiff Mastiffs mastiffs Mastiff mastiff Mastiffs mastiffs Mastiff mastiff Mastiffs mastiffs Mastiff mastiff Mastiffs mastiffs Mastiff mastiff Mastiffs mastiffs Mastiff mastiff Mastiffs mastiffs Mastiff mastiff Mastiffs mastiffs Mastiff mastiff Mastiffs mastiffs Mastiff mastiff Mastiffs mastiffs Mastiff mastiff Mastiffs mastiffs Mastiff mastiff Mastiffs mastiffs Mastiff mastiff Mastiffs mastiffs Mastiff mastiff Mastiffs mastiffs Mastiff mastiff Mastiffs mastiffs Mastiff mastiff Mastiffs mastiffs Mastiff mastiff Mastiffs mastiffs Mastiff mastiff Mastiffs mastiffs Mastiff mastiff Mastiffs mastiffs Mastiff mastiff Mastiffs mastiffs Mastiff mastiff Mastiffs mastiffs Mastiff mastiff Mastiffs mastiffs Mastiff mastiff Mastiffs mastiffs Mastiff mastiff Mastiffs mastiffs Mastiff mastiff Mastiffs mastiffs Mastiff mastiff Mastiffs mastiffs Mastiff mastiff Mastiffs mastiffs Mastiff mastiff Mastiffs mastiffs Mastiff mastiff Mastiffs mastiffs Mastiff mastiff Mastiffs mastiffs Mastiff mastiff Mastiffs mastiffs Mastiff mastiff Mastiffs mastiffs Mastiff mastiff Mastiffs mastiffs Mastiff mastiff Mastiffs mastiffs Mastiff mastiff Mastiffs mastiffs Mastiff mastiff Mastiffs mastiffs Mastiff mastiff Mastiffs mastiffs Mastiff mastiff Mastiffs mastiffs Mastiff mastiff Mastiffs mastiffs Mastiff mastiff Mastiffs mastiffs Mastiff mastiff Mastiffs mastiffs Mastiff mastiff Mastiffs mastiffs Mastiff mastiff Mastiffs mastiffs Mastiff mastiff Mastiffs mastiffs Mastiff mastiff Mastiffs mastiffs Mastiff mastiff Mastiffs mastiffs Mastiff mastiff Mastiffs mastiffs Mastiff mastiff Mastiffs mastiffs Mastiff mastiff Mastiffs mastiffs Mastiff mastiff Mastiffs mastiffs Mastiff mastiff Mastiffs mastiffs Mastiff mastiff Mastiffs mastiffs Mastiff mastiff Mastiffs mastiffs Mastiff mastiff Mastiffs mastiffs Mastiff mastiff Mastiffs mastiffs Mastiff mastiff Mastiffs mastiffs Mastiff mastiff Mastiffs mastiffs Mastiff mastiff Mastiffs mastiffs Mastiff mastiff Mastiffs mastiffs Mastiff mastiff Mastiffs mastiffs Mastiff mastiff Mastiffs mastiffs Mastiff mastiff Mastiffs mastiffs Mastiff mastiff Mastiffs mastiffs Mastiff mastiff Mastiffs mastiffs Mastiff mastiff Mastiffs mastiffs Mastiff mastiff Mastiffs mastiffs Mastiff mastiff Mastiffs mastiffs Mastiff mastiff Mastiffs mastiffs Mastiff mastiff Mastiffs mastiffs Mastiff mastiff Mastiffs mastiffs Mastiff mastiff Mastiffs mastiffs Mastiff mastiff Mastiffs mastiffs Mastiff mastiff Mastiffs mastiffs Mastiff mastiff Mastiffs mastiffs Mastiff mastiff Mastiffs mastiffs Mastiff mastiff Mastiffs mastiffs Mastiff mastiff Mastiffs mastiffs Mastiff mastiff Mastiffs mastiffs Mastiff mastiff Mastiffs mastiffs Mastiff mastiff Mastiffs mastiffs Mastiff mastiff Mastiffs mastiffs Mastiff mastiff Mastiffs mastiffs Mastiff mastiff Mastiffs mastiffs Mastiff mastiff Mastiffs mastiffs Mastiff mastiff Mastiffs mastiffs Mastiff mastiff Mastiffs mastiffs Mastiff mastiff Mastiffs mastiffs Mastiff mastiff Mastiffs mastiffs Mastiff mastiff Mastiffs mastiffs Mastiff mastiff Mastiffs mastiffs Mastiff mastiff Mastiffs mastiffs Mastiff mastiff Mastiffs mastiffs Mastiff mastiff Mastiffs mastiffs Mastiff mastiff Mastiffs mastiffs Mastiff mastiff Mastiffs mastiffs Mastiff mastiff Mastiffs mastiffs Mastiff mastiff Mastiffs mastiffs Mastiff mastiff Mastiffs mastiffs